The common holly and the butcher's-broom
Sometimes it's easy to confound very different plants, one example of this are the common holly and the butcher's-broom. As we approach Christmas time and taking into account the importance that these plants have in the decorations of this festive season, we will take this opportunity to show the differences and similarities of both plants.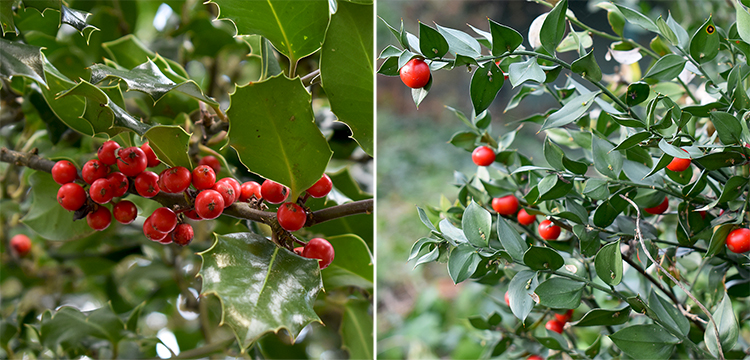 Caption:
The common holly (Ilex aquifolium, left) and the butcher's-broom (Ruscus aculeatus, right)
The common holly (
Ilex aquifolium
) is a plant from the Aquifoliaceae family, is the only plant of this family in Europe, being considered a relic of the old laurel forests (humid subtropical forests of the pre-glacial period). It is a shrub or small tree up to 12 m tall (occasionally more), with oval, leathery evergreen leaves, protected by sharp spines. It is a dioecious plant (such as the willow, laurel or kiwi), with male plants producing only male flowers and pollen, and female plants, producing only female flowers, fruits and seeds. The small fruits initially green turn red when ripe. The name Ilex is due to the similarity with the leaves of holm oak (
Quercus ilex
).
The butcher's-broom (Ruscus aculeatus), also known as knee holly, is a small dioecious shrub, about 1 m tall, of the family Asparagaceae (previously included in Liliaceae), the same as asparagus (Asparagus) and sisal (Agave). It has unusual thin, deciduous, small-sized membranous leaves that easily pass unnoticed, and modified leaf-shaped, leathery and spiny cladodes, which are often confused with true leaves and from where the flowers and fruits appear. The fruits are small berries that turn red when ripe.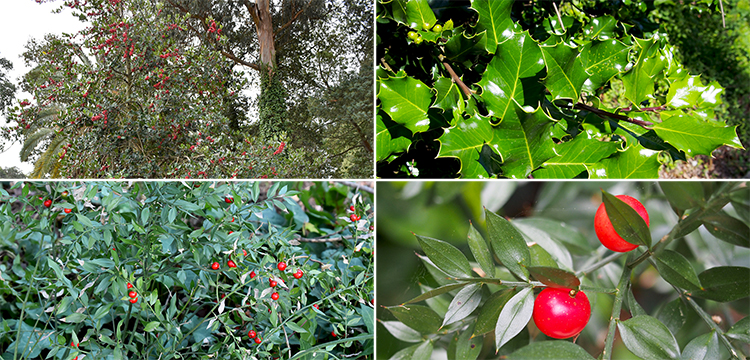 Caption:
Ilex aquifolium at Quinta de S. Francisco gardens, general appearance and leaves (upper images). Ruscus aculeatus, general appearance and fruits sprouting from cladodes (lower images).
Due to their scarcity and high demand on Christmas season, both plants are protect by conservation laws, with the common holly protected by the Portuguese law (Decreto-Lei n.º 423/89, de 4 de Dezembro) and the butcher's-broom being protected by Annex V of the European Union Habitats Directive (92/43/EEC). At Quinta de S. Francisco both the common holly and the butcher's-broom can be easily observed at this time, we invite you to visit us to know more about the botanical richness that can be found here.
Merry Christmas!