'The Inpactus - Innovative Products and Technologies from Eucalyptus Project' is a Research & Development Project promoted by THE NAVIGATOR COMPANY, RAIZ, the Universities of Coimbra (UC) and Aveiro (UA) (Consortium) and involving the following partners.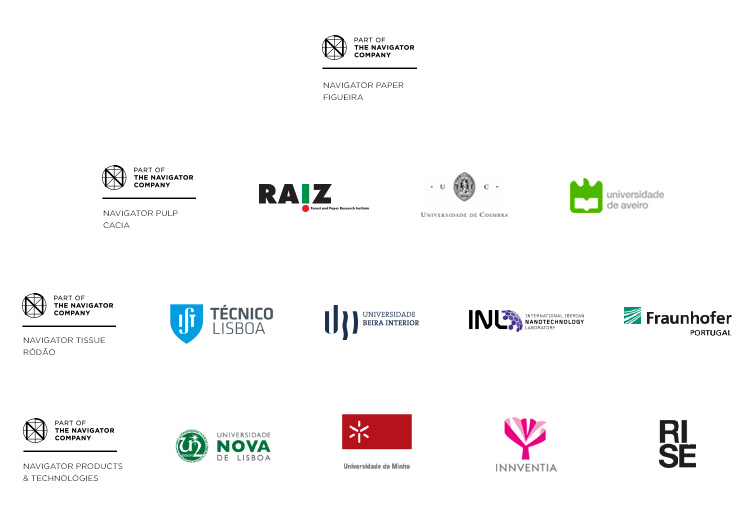 Caption:
Figure 1 – Consortium Inpactus - Innovative Products and Technologies
The project is supported by Structural Fund managed by the Portuguese program Portugal 2020.
Inpactus, to be developed by the Consortium, aims to develop new solutions, such as cellulosic pulps with innovative features, new paper products with different specificities and functions, tissue paper with innovative properties, new bioproducts, biofuels and other materials obtained from the deconstruction and conversion of forest biomass and by-products from the pulp industry. This Project responds to challenges in the areas of Pulp, Paper and Tissue business and in the emerging area of Bio-refineries and Bioproducts.
This Project aims to become an exemplary success story of University-Company cooperation, through the creation of a true Center of Excellence, multipolar and delocalized, in the area of knowledge and innovation, from eucalyptus. It is structured in activities that will be developed over a period of 4 years, involving an investment of up to € 14,6 million (including 13.3 M€ investment from European Structural Funds), a global team of the various promoters of around 180 people (including PhD researchers, research fellows, industrial engineers and transversal areas of the company, coordinators, etc…) laboratory equipment, raw materials and consumables, acquisition of consulting services and technical-scientific assistance. The execution of this plan, together with a strategy of valorization and dissemination, will enable companies to enhance direct international sales of pulp, paper and tissue, create synergies with other sectors and end users. The consortium involved in the project will also promote the registration of around 10 patents, the publication of 100 scientific articles, the holding of 50 presentations at conferences and congresses, the creation of 4 spin-offs, the advanced training of researchers and future professionals related to Sector and the creation of 38 highly qualified jobs. The project will thus bring a set of socio-economic impacts relevant to the national economy, promoting job creation, innovation in products and technologies in a relevant field for the country, valuing endogenous resources and sustainable industrial solutions.